While cosmetic surgery & medspa procedure platforms have rarely achieved scale to date, they are a growing area of investor focus, supported by an aging population and positive consumer trends in aesthetics catalyzed through the COVID-19 pandemic. Herein, Marwood delineates the opportunities for growth and consolidation of the cosmetic surgery & medspa market, even in a challenging economic environment. A snapshot of this large and growing space provides color on both consumer and provider dynamics and the potential countercyclical advantages of the sector. In addition, state regulatory considerations, critical to M&A strategy in the space, are introduced.
I. A Sector With Growing Patient Demand
The US cosmetic surgery and medspa procedures market is estimated at ~$20B in the US, forecast to grow at ~10% YoY over the next 3–5 years, as estimated by Marwood. An improving acceptance by society of not only certain procedures, but sizeable out of pocket costs are key contributors to growing procedural volume. Cosmetic surgery is broadly defined as a process of reconstruction or repairing parts of the body by the transfer of tissue, either in the treatment of injury or for cosmetic reasons. Leading procedures include liposuction, body contouring, facelift, and breast augmentation. The market for these key procedures alone recently been estimated by Marwood at ~$12B, forecast to grow at over 10% YoY over the next 3–5 years.
Medspas seek to combine some medical procedures normally performed in a doctor's office with the experience of a day spa. Leading procedures include chemical peels, Botox and filler injections, micro abrasion, photo-facial pulsed light (IPL), skin tightening, body contouring/cellulite reduction, and laser skin resurfacing among others (Figure 1).
Leading Medical Spa Treatments by Popularity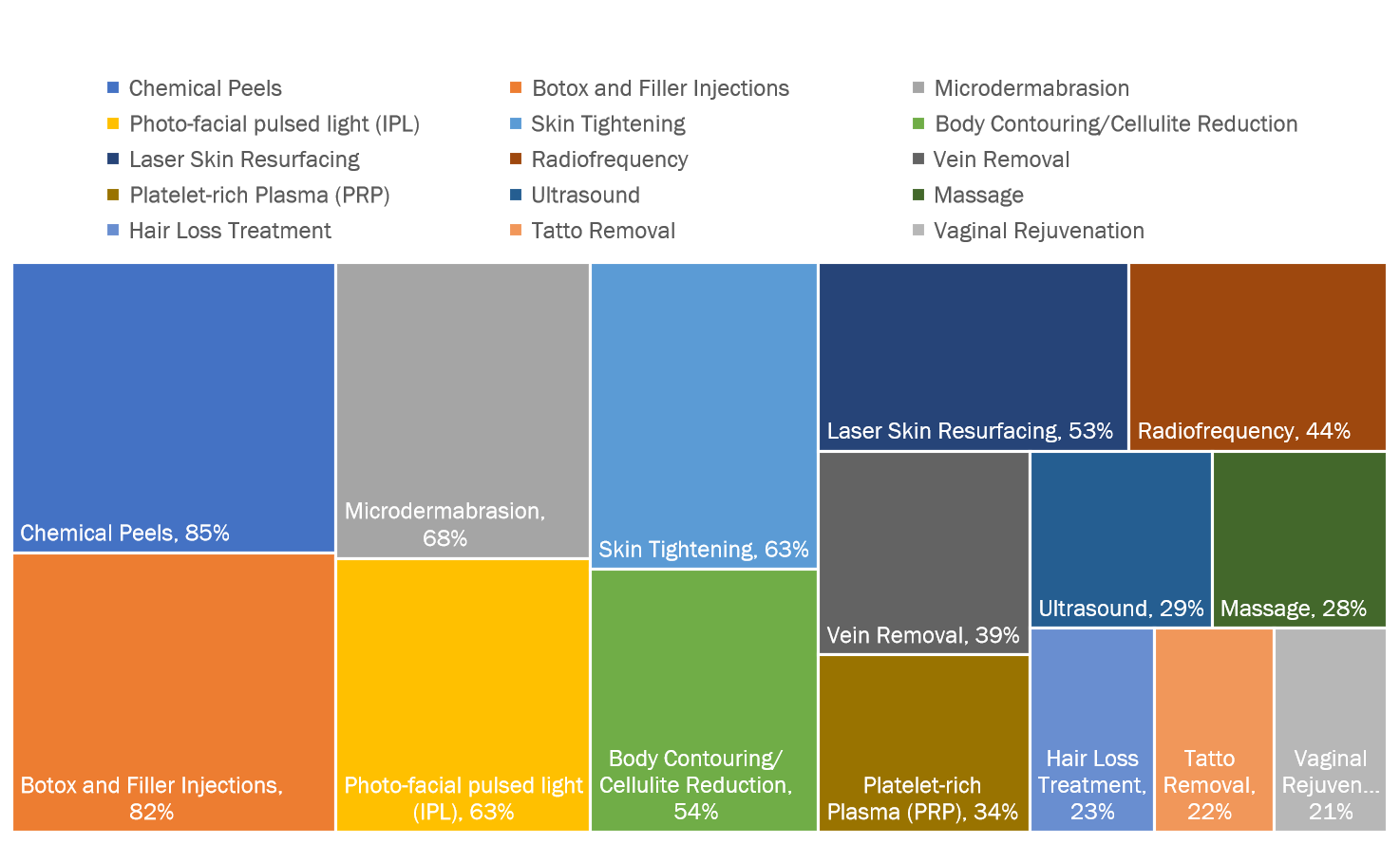 The demand for a wider suite of cosmetic surgery and medspa procedures has increased. Between social media and video conferencing, there has been a heightened focus on physical appearance and greater acceptance of altering it with cosmetic procedures. Weight-related cosmetic procedures have also increased, an impact exacerbated by COVID, associated lockdowns and post-COVID remote work contributing to decreased physical activity.
Marwood consumer studies have confirmed a more widely accepted use of cosmetic procedures due not only to post-COVID patient backlogs but new demand drivers. Providers of these services similarly anticipate increasing procedure volume.
Cosmetic surgery and medspa volumes have experienced growth not only due to improved societal acceptance of certain procedures, but acceptance of sizeable out-of-pocket costs in this largely cash-pay market. Growth in demand is also being driven by expanding consumer awareness about self-care and an increasing number of aesthetic medicine and cosmetic treatment options.
The mix in demand of these procedures continues to evolve. Due to more rapid recovery times and better surgical outcomes, patients are increasingly interested in more invasive procedures such as liposuction, breast augmentation, and/or facelifts. Concurrently, due to the aging population, there is growing demand for non-surgical services delivered through medspas.
II. Provider Selection Criteria—Role Of Cost In A Largely Out-Of-Pocket Market
Provider selection increasingly involves social media. There are a number of considerations that impact patient selection behavior (e.g., online reviews, reputation scores,), but chief among them, based on Marwood analysis, is a provider's safety record.
While consumers identify providers largely based on internet research, procedure cost can be a key selection criteria as well, even driving medical tourism. Patient sensitivity to cost varies by procedure category in this largely out-of-pocket market and should be evaluated accordingly.
III. Recession—Limited Downside And Potential Upside
Marwood analysis has revealed that consumers are still likely to continue to seek cosmetic procedures in a future recession. For example, Marwood has previously found liposuction/body contouring (i.e., body-related) volume changes due to a recession to be limited.  However, consumers are likely to become more cost conscious during a recession, offering an opportunity for efficient operators with awareness of the selective price sensitivity of their patient base.
In the current environment in which labor has been tight, the recession also has the potential to increase retention as the labor market slackens.  In addition, there is an opportunity to automate tasks and make reductions to non-core labor.
IV. An Opportunity For Consolidation
Private equity investment in the cosmetic market is still in its early inning when compared to other more established areas. Historically, relative to US cosmetic surgery and medspa procedures, institutional investors have been more focused on acquiring dermatology providers, and there are many examples of national and regional dermatology platforms. Yet, few cosmetic surgery and medspa platforms have achieved scale. TABLE 1 delineates three major platforms.
TABLE 1: Examples Of Leading Medspa & Cosmetic Procedure Platforms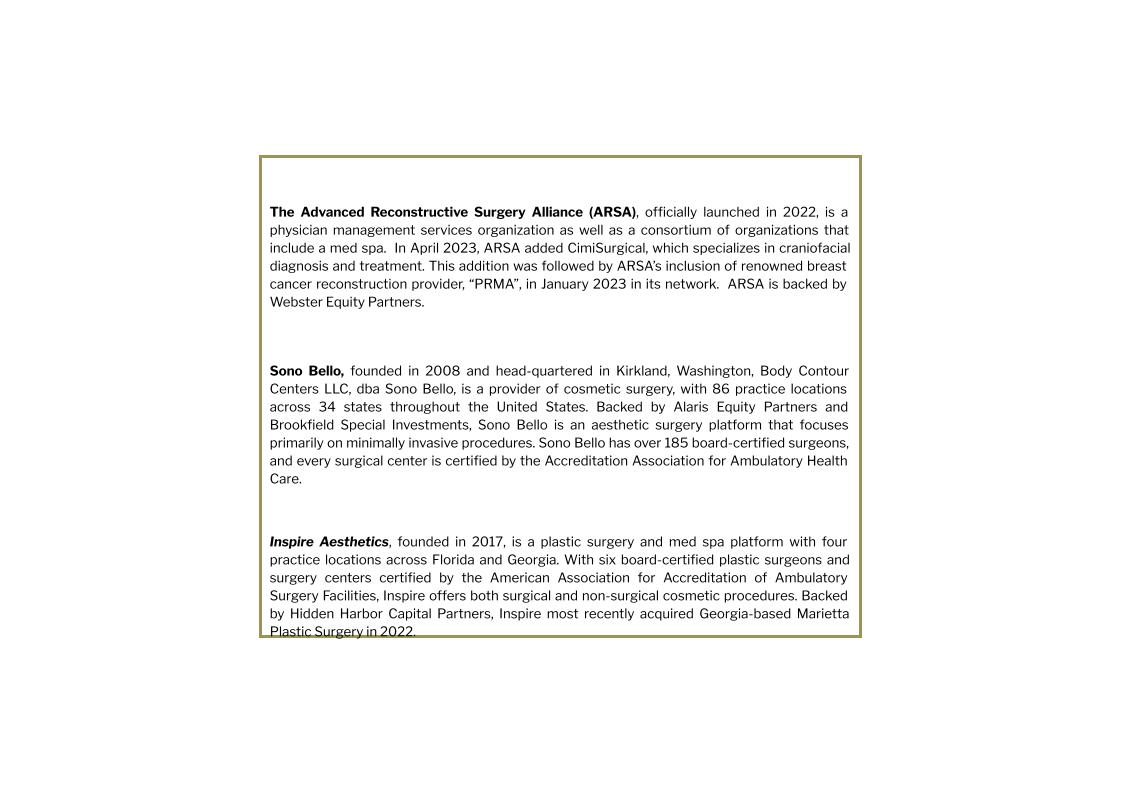 The cosmetic surgery & medspa space remains highly fragmented. By some estimates there are close to 9,000 medical spas in the US. Yet investor interest is increasing due to the growing demand for services and the opportunity to consolidate providers. ARSA, Sonobello, and Inspire Aesthetics are examples of three platform that have emerged over the last 15 years, and cosmetic providers note that increasingly both health systems and investment groups have sought to acquire cosmetic surgery providers—if only in their geographic areas.
Yet cosmetic surgeons have historically sought to remain independent and not join larger group practices which now may be changing due to new physician/surgeon preferences to not operate their own practice. In addition, hospitals or health systems generally do not have a large cosmetic provider focus because aesthetic procedures are viewed as noncore functions to their other service offerings.
V. State Regulatory Dynamics
Diligence on the status and evolution of state regulatory and legislative dynamics must be performed on a state-by-state basis. Corporate Practice of Medicine (CPOM) regulations exist in most states, which prohibit non-licensed physicians (including individuals and business entities) from directly employing licensed physicians to practice medicine on their behalf. However, non-physician entities can invest in management service organizations to maintain control over the administrative side of a medical practice without infringing on the professional judgment of physicians. This investment approach has been widely used in other health service areas (i.e., dental service organizations), and allows institutional investors to fund growth while being compliant with state regulatory requirements. Additionally, attention must be paid to state requirements related to accreditation of offices where doctors perform surgery, as well as other state laws and regulations that apply such as recent state policy trends on limitations for opioid prescriptions.
VII. Future Considerations
Target analysis in this environment requires an ability to parse patient and provider considerations, often at a regional level, to identify opportunities and challenges with not only an industry, but a geography. Landscape and trend analysis is crucial to not only characterize the current opportunity but future strategy for bolt-on acquisitions as well as exit. State-level work is critical in understanding issues, including CPOM regulations.
Marwood's extensive experience in granular state-level and federal regulatory &legislative considerations provide a strong foundation to our capability to explore strategic considerations of landscape and competition, providing a 360° view of target market access considerations.