Demand for fertility services has grown over the last few years, along with increasing insurance coverage mandates and rising interest from large employer groups. In the absence of federal policy, states have taken on a more active role in requiring commercial coverage and reimbursement of infertility treatment. Although the post-Roe political landscape in the United States could deter individuals from seeking out reproductive care, state abortion bans do not have any direct impact on assisted reproductive technology and pose limited risk to fertility treatment service providers. In the first of a two-part series in the space, we address the considerable tailwinds in state regulatory and commercial payor policy that create an attractive environment in the fertility space.
The Growing, Diverse Market Of Fertility Services
The market for fertility services in the US is estimated to be growing at ~8% per year.[1] Fertility services are variegated but typically include diagnostic (lab tests, imaging), treatment (medications, surgery, intrauterine insemination, in vitro fertilization (IVF), pre-genetic testing), fertility preservation (cryopreservation of gametes), and surrogacy services. Growing societal norms toward bearing children at older ages, rising cases of infertility, and increasing numbers of same-sex couples seeking children are some of the largest levers in driving demand. Today, nearly two-thirds of Americans would be willing to change jobs to receive fertility benefits if faced with infertility.
States Fill The Federal Policy Vacuum
American fertility policy considerations are differentiated at the state level, as there is no singular federal fertility coverage policy in place. Over the last several Congresses, Democrats have introduced several bills that would have expanded fertility coverage to some extent, but even when Democrats held control over Congress, there was virtually no committee action. Support for a national fertility mandate has been limited and partisan.
The Supreme Court's Dobbs decision, which overturns Roe v. Wade and shifts power to the states, does not directly impact fertility services, but allows states to pass laws that could limit IVF practices, such as prohibitions on the destruction of embryos and fertilized eggs. State abortion laws have reignited discussions over the meaning of personhood and the extent to which embryos (either in the womb or in the lab) are considered people with legal rights. While 23 states have abortion laws on the books that could be enforced, of these, only four states have specific carve-outs for eggs fertilized outside the womb, and thereby have no direct impact on IVF. In response, fertility providers are considering workarounds in states with the most restrictive bans, including (1) opting for single embryo transfers into the womb (limiting the need for selective reduction); (2) limiting the number of eggs retrieved at one time; (3) increasing pre-implantation genetic screenings; and (4) transferring frozen embryos to states with less risk.
State Insurance Mandate Environment and Fertility Coverage
States assume the responsibility of regulating the extent to which health plans are required to cover fertility services. Fertility coverage has generally expanded over the past several years due to states increasingly adopting insurance mandates for fertility coverage. Mandates only impact the fully-insured commercial population in a given state; populations covered under self-insured plans, Medicaid managed care organizations, Medicare or Medicare Advantage plans, and religious employers are exempt from the scope of the mandates. Mandates are also differentiated based on whether health plans are required to cover fertility services (Mandate to Cover), or to simply offer a policy that includes coverage of fertility services (Mandate to Offer) (FIGURE 1).
The heterogenous nature of these mandates requires state-level consideration. Many states with mandates set limitations on the applicable populations based on the definition of infertility, which restricts the scope of the mandate based on sex, marital status, or sexual orientation. Moreover, some mandates only apply to a subsection of the fully-insured commercial market. Lastly, mandates differ from state to state based on services covered, with some states specifically outlining which procedures are covered and others leaving coverage determinations to the plans themselves. 20 states have proposed bills in the 2023 legislative session that would either amend or expand insurance mandates. Investors must be cognizant of state regulatory dynamics that have driven the expansion of fertility coverage across the country. Ultimately, though, commercial coverage and reimbursement of fertility services come from the health plans.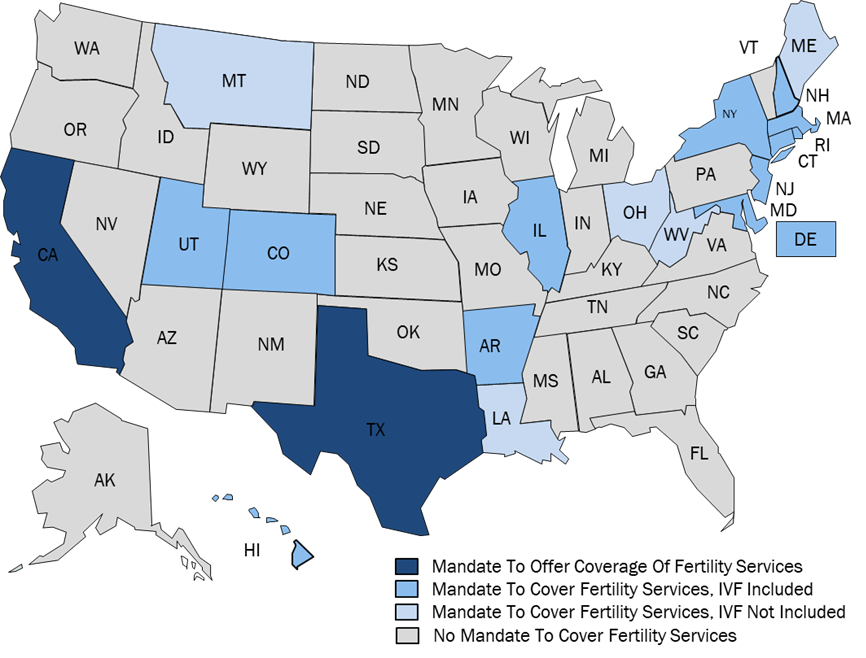 Stability In Commercial Coverage Policies
The commercial coverage of fertility services has increased due to state mandates, but plans are unlikely to voluntarily expand coverage in absence of governmental intervention. Volume has trended upward in recent years, and is expected to continue to increase, with the largest growth to occur in states with the newest mandates (i.e., Colorado and Maine) as members discover the benefit.
Plans tend to manage this benefit either internally through medical necessity reviews and caps on fertility services and plan spend, or they outsource utilization management to a fertility benefit manager (e.g., Carrot, Progyny, WINFertility). The degree of commercial coverage varies depending on the plan, market, and geography, but an infertility diagnosis and the satisfaction of medical necessity criteria are typical pre-requisites for coverage. While plans are not tightly managing this benefit, their level of focus may increase if additional mandates are implemented.
Investors should be mindful of health plan contracting and reimbursement dynamics to understand how providers are evaluated in this particular health sector. Although plans generally maintain open networks of fertility providers to meet member demand and satisfaction, providers are mainly evaluated based on volume, single embryo transfer rates, and multiple birth rates. Oftentimes plans manage preferred tiers of high-quality providers to save costs and promote quality outcomes. While variation in price is common, plans may be willing to accept a higher rate if outcomes are more successful. Indeed, reimbursement varies widely across plans, markets, and geographies, with IVF ranging anywhere from $5,000 to $20,000 per cycle.
In contrast to the fully-insured commercial market, employers who self-insure need not comply with insurance coverage mandates promulgated by states. However, self-insured employers have become more interested in offering fertility benefits to their employees. In 2021, the number of self-insured companies offering or enhancing their family-building benefit grew by 8% year-over-year. The main reasons for the increased interest are increasing employee access to care, remaining competitive to recruit and retain talent, and being a "family friendly" employer. Most self-insured employers indicate a low level of concern for utilization of infertility benefits due to low utilization rates and controlled costs.
Medicaid and Medicare Are Limited Considerations In The Space
Outside of payors in the commercial market, publicly-sponsored payors are typically less generous in their fertility benefit offerings. No state Medicaid program covers infertility treatment, and there is little movement across the country to expand fertility coverage in either fee-for-service Medicaid or Medicaid managed care. While the Medicare program does cover "reasonable and necessary" infertility treatment services, most beneficiaries are not of reproductive age.
Future Considerations
As demand for fertility services continues to increase, attention must be paid to state and federal regulatory, commercial payor, and market dynamics impacting the space. Marwood's services span federal and state regulatory and legislative considerations and payor/benefit manager dynamics from a Medicare, Medicaid and commercial perspective. In addition, Marwood's analysis covers strategic considerations including market sizing, growth outlook, referral source views, competitive landscape, and compliance.
[1] Marwood Group analysis of independently calculated growth rates for the US market.
ABOUT THE AUTHORS
Scott Silberberg MA is a Senior Associate of Advisory at The Marwood Group. Before joining Marwood, Mr. Silberberg provided Medicaid regulatory and market research for strategic planning in program evaluation, healthcare delivery development and health system restructuring at Health Management Associates. Mr. Silberberg holds a Master of Arts in Political Economy from King's College London.
Mark Slomiany PhD is a Director of Advisory at The Marwood Group and a former faculty member of the Department of Cardiothoracic Surgery at New York University Langone Health, as well as a former research associate at the Mossavar-Rahmani Center for Business and Government at the Harvard Kennedy School of Government.